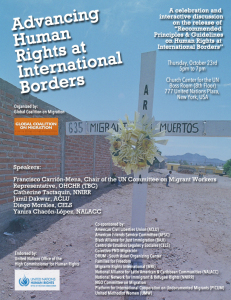 This week, GCM representatives are traveling to New York to welcome there release of "Recommended Principles & Guidelines on Human Rights at International Borders"—a document that will be released during the UN General Assembly on October 22nd.
The document on human rights at borders was drafted under the auspices of the Office of the High Commissioner for Human Rights (OHCHR) and will be announced in a report by UN Secretary General Ban Ki Moon concerning migrant children as well as protections at borders. The Secretary General's report is available at http://www.ohchr.org/EN/Issues/Migration/Pages/WSReportGA69.aspx. Several GCM members participated in the drafting of this document along with other civil society groups.
Our delegation will also participate in a side event led by OHCHR on October 23rd, where GCM will be represented by Catherine Tactaquin (NNIRR) who will speak about the human rights concerns of migrant communities in the world's major migration corridors.
On October 23rd, from 5pm to 7pm, GCM will host our own celebration and civil society dialogue, endorsed by OHCHR, about the guidelines document and its potential for enhancing human rights protections at international borders. This event will take place at the Church Center for the United Nations (777 UN Plaza – Boss Room, 8th floor). All are welcome to join!