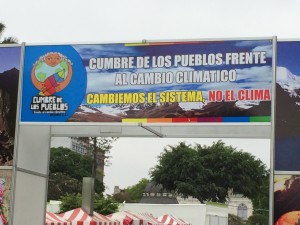 From December 6-8, GCM participated in the People's Summit on Climate Change and the Rights of Nature Tribunal, parallel events to COP20, in Lima, Peru. GCM participated as part of the Climate Space, a loose configuration of grassroots organizations globally that have been engaging in advocacy around the COPs for many years. Groups within the Climate Space used opportunities during the People's Summit and tribunal to discuss next steps in the lead-up to COP21 in Paris, France next year.
Highlights from Lima
Rights of Nature Tribunal
The Rights of Nature Tribunal was led by a panel of 13 "judges" who heard testimonies from experts and witnesses from grassroots communities affected by climate change. Cases addressed the impacts of climate change, extractive industries, and deforestation, and included critiques of "techno-solutions" like Climate Smart Agriculture and geo-engineering. Accounts of displacement were shared in a number of testimonies.
A witness from the Brazilian Amazon discussed a hydroelectric dam project that will displace 20,000 people and affect the livelihoods of thousands more.
An anti-REDD campaigner from Liberia highlighted the damaging impacts of oil extraction and related inter-group conflict that has led to the displacement of many communities—what he called "climate refugees."
Mention of migrant workers employed in extractive industries that are damaging indigenous lands in the United States highlighted the complexities of the relationship between climate and migration and the need for solidarity among all those affected.
WeCan Workshop (Women's Earth & Climate Action Network)
The WeCan workshop highlighted the voices of women, particularly Indigenous women, who are often excluded from the COP negotiations. Participants highlighted women's leadership in struggles for climate justice, linking these struggles to the wider struggles against colonial oppression and violence. Presentations highlighted the importance of solidarity with all affected communities.
Climate Space Discussions
Participation on the outside of the COP is the priority for Climate Space organizers, as there is a need to continue to build advocacy and international solidarity and to gain more clarity on the analysis of root causes and false solutions. This sentiment echoes GCM's impressions from our activities in New York in September, 2014. There, GCM members expressed interest in engaging with civil society groups advocating for climate justice globally, with the aim of developing our collective analysis on the intersections between migrants' rights and climate justice.
It was evident from the workshops and conversations among Climate Space groups in Peru that there is a need to deepen the current discourse on migrants' rights and climate justice, which is currently focused mainly on the "climate refugee" concept. Bringing a human rights-based analysis into the discussion and highlighting the complexities of climate and migration will be important parts of our engagement going forward.